Challenge Yourself was the theme of last night's meeting. We had 2 speeches about the broad range of opportunities that Toastmasters provides to challenge yourself and push yourself forward. Both Avril and Helen spoke about their personal journeys and what they had learned along the way. Both speeches were inspirational and motivational as well as informative.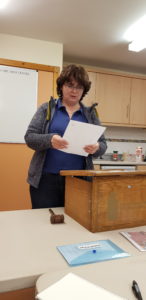 We also had a couple of "firsts" – Nadine was our Timer for the first time and gave a particularly enjoyable introduction. Our guest, Donna, delighted us with a hair-disaster story at Table Topics.
It was great to see 4 new guests this evening, one returning guest who joined and one ex-member who has returned after being away from Linlithgow!
Jim gave us some interesting Table Topics about 29th February, very topical and one which only appears every 4 years.
As ever, our evaluations were positive and encouraging.
Thanks to everyone who contributed to the evening. Our next meeting is on 10 March and will follow slightly unusual format on the lead up to the Area Contest on 22 March. Come along and see if you can challenge yourself.