Another upbeat meeting last night at Linlithgow, with 2 new guests and another from Glasgow Toastmasters (Gerry). All were made welcome by Sheila who asked us "What warms you up?".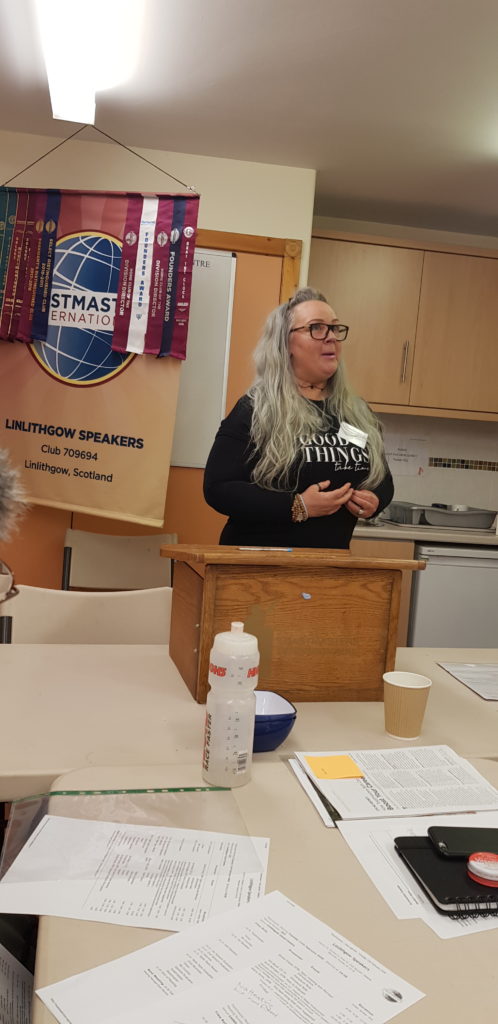 We learned a great speech technique from Gerry – he started half way through his story so we were intrigued as to why he was passing out in a car bleeding! It really keeps the audience interested because we want to find out more. Powerful message in his speech as well. What a lovely singing voice Gerry has – who knew?
We also learned more about delivering positive feedback and Avril gave us a template she has been using (stolen from another Toastmaster). This is a good starting point for new Toastmasters who often find evaluating difficult.
We had a lovely and inspiring story from Teresa during Table Topics.
Sheila lead us through the evening and kept the meeting positive and upbeat. We had speech evaluations from Mark and Avril.
We had 3 first-timers. Our guest, Louise, did a Table Topic for the very first time – well done! New member Ellen was our Timer and new member Nadin was our Table Topics Master. Well done to you all.
Our next meeting is on Tuesday 25 February – members and guests welcome!